16 Oct

Picking Our New Mayor
Picking Our New Mayor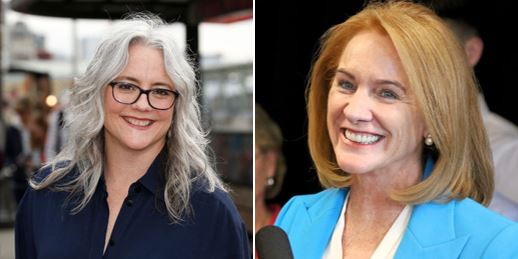 Some people complain about their difficulty distinguishing between the two progressives vying to be our new mayor. But some of the fog cleared away this weekend as the Seattle Times came out 101 percent for  Jenny Durkan while The Stranger went over the top for Cary Moon.
The Times finds: "Durkan brings deep experience, proven advocacy for all the city's residents, and an appreciation of Seattle's role in the region and state. The choice is obvious for Seattle's next mayor: Durkan." The Stranger writes of Moon: "She is a strong leader who is unafraid to call out the powers that be. She's a visionary with the chops to carry out her truly progressive platform." Both find faults abound in the candidate they don't prefer. To read about the bad with the good check out the full editorials here and here. The Times also published in-depth stories Sunday striving for objectivity and fairness. Those stories are available here for Durkan and here for Moon.
You can enhance your own perspectives about the candidates by hearing and meeting them in person at a community forum with the candidates Thursday, Oct. 19, at the Georgetown Campus of South Seattle College. Each candidate will make a brief presentation, followed by Q&A with the audience and each other. The program will include a discussion about homeless issues with City Attorney candidate Scott Lindsay.
The forum will also include an update about the enormous "Georgetown Crossroads" project under construction near the intersection of E. Marginal Way and Michigan St. The Prologis project is a great illustration of the health of the Seattle industrial job base, and both candidates say good things about their desire to support "family-wage" jobs. The winner Nov. 7 will become the first woman to serve as Seattle mayor since Bertha Landes nearly a century ago.
Doors open at 11:30 AM. The program begins at Noon and will end by 1:30 PM.  A light lunch will be provided if you RSVP by email to Becklynn Martin at  becklynn@seattleindustry.org.
Questions? Call the Manufacturing Industrial Council at 206-762-2470.