22 Jun

Manufacturing Growth

The question was put to Ken Gilman, one owner of a company called Seattle Bridge.

Ken, in the year 2018, why would anyone try to make a go of it in manufacturing?

"We have a good niche for our product," he answered. "We're the only company I know building affordable suspension bridges for pedestrians."

And, so it goes at Industry Space, where 10 embryonic companies are trying to make it in manufacturing. Located in Seattle's South Park neighborhood, Industry Space is one of the tours available at the Together, Seattle Works "summit," on June 27 and 28. Tour info and the summit schedule are available online at: www.seattleindustry.org/seattleworks.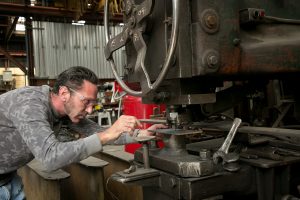 Other June 27 tour sites include the Boeing 737 plant, Nucor Steel and the Vigor Industrial shipyard. June 28, a tour is available of Fishermen's Terminal on the Lake Washington Ship Canal.
Many of us forget the fishing industry remains a mainstay of the state economy, with revenue of about $10 billion per year (excluding local company operations in Alaska), and about 20,000 jobs.
Alaska counts because it produces more seafood than the other 49 states combined and much of the "Alaska" fishing fleet calls Seattle home.
To RSVP for a tour, contact Becklynn Martin at the Manufacturing Industrial Council of Seattle at becklynn@seattleindustry.org. Tour RSVPs must be received by noon, Friday, June 22. Space is limited and will be awarded on a first-come, first-serve basis.
Manufacturing growth.
You don't usually see those two words next to each other. It might be hard to wrap your mind around the concept given what we often see, hear and read. But, if the companies at Industry Space "make it" financially, they'll join one of the steadiest growth trends in the state economy.
According to Washington State Department of Revenue data, manufacturing companies took in $178 billion in 2017. That was up 36% compared to sales ten years earlier and it was slightly higher than the 33% growth rate for the entire private sector.
The numbers come from financial reports that every company must report to the state for its operations inside Washington to calculate B&O and other tax liabilities. So, nobody we know would report more income than they earned because it would boost their tax bills.
The growth curve was even better for manufacturing companies in a subsector often called the "metal trades." That group is comprised of metal fabricators and machinery makers – like most at Industry Space.
Over the past 20 years, this group reported gross business revenue growth of 134% to $12.2 billion. That compared with 117% growth for the whole private sector during the 20-year time span. These companies also contributed to job growth, employing more than 34,600 workers in 2017, up from 19,000 in 1998. These companies tend to be very small – they average about one dozen workers each – and their number grew, reaching 2,600 companies from 2,000 in 1998.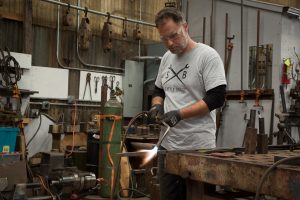 Seattle Bridge is part of this subsector. The company has four employees – each one with an owner share – plus a book keeper. It builds suspension bridges for pedestrians and sells them to both public and private customers across the US for facilities such as parks and golf courses. Seattle Bridge contracts out for welders and other production workers on a per-project basis. Ken Gilman helps on the design side. He's a former student at the Boston Museum School of Fine Arts.
If a smart guy like Ken can see the business potential in manufacturing, why do most of us have such a hard time seeing it? We say there are at least two singular reasons that compound each other.
One is language-based. Manufacturing a singular term that is used to describe companies that are extremely diverse. The US government recognizes more than 460 subsectors of manufacturing. Those subsectors cover everything from leather belt makers to fish net manufacturers to breweries and food processors, to airplane and truck builders. These subsectors vary widely in their levels of success or failure, yet all their activity is reported under a single label. This is invariably, intrinsically misleading. Worse, it's just plain stupid.
The second reason for confusion is also singular and it compounds the language issue. Manufacturing success or failure is almost always measured by a single factor – jobs. Jobs are important, but when reported in isolation from other factors, the job count is often misleading.
The number of manufacturing jobs in the US peaked in 1951. It has dropped almost every year since, and the same thing is occurring in nearly every country around the globe due to gains in productivity.
If we measured the success of US agriculture by jobs alone, we should all be starving by now due to the historic drop in farm employment. Instead, the US suffers from an obesity epidemic.
The employment declines are presently mitigated by the sheer scale of the remaining job base, the growing number of retirements due to an aging workforce, and the declining numbers of young people with relevant job skills. A motivated young person with those skills today is likely to find well-paid, full-time employment for decades to come.
Business income matters too. If people can make money at something, people tend to keep doing it. The folks at Industry Space are striving for success and we should all root for them because manufacturing helps the whole economy. Don't take our word for it. Before he gained fame on stage, and in music halls, Alexander Hamilton was best known as the first and loudest advocate for US manufacturing. Hamilton believed manufacturing can goose the entire economy by putting together raw materials and parts "here," that can be sold "over there," with export sales returning as income to the place where the goods are made.
People in manufacturing are painfully aware that their profit margins are often small. But for the rest of us, that's the magic of it. The margins are small because the companies spend so much for labor, their supply chains and all the professional services required to keep a manufacturing firm in business.
Considering that impact, think again about the scale of $178 billion.
To put that sum into context, consider that the entire National Football League grosses about $15 billion per year. That's the take not just for the Seattle Seahawks, but for all 32 NFL teams, plus the Super Bowl, souvenirs, the NFL TV channel, etc.
In 2017, Washington state manufacturing was worth 10 entire NFLs. Think about that as you sign up for tours. Measured by money, manufacturing is bigger than football.
If you are lucky enough to tour the 737 plant,  you'll see one of the world's great production lines. Last year, the working women and men at the Boeing plant in Renton cranked out 529 commercial jetliners. That was up 85% from the 282 jet liners delivered in Renton in 1998.
Sounds like growth to us, and you'll see similar marvels at Nucor and Vigor. Vigor is part of a maritime economy in Washington that employs 103,000 highly paid workers, and adds billions on top of the income created by manufacturing.
Consider the following:
In 2017, manufacturing in Washington produced more money than:
all car dealers (new and used) – (sales of $28.7 billion)
all department stores, food stores and gas stations ($30.4B)
all TV and radio stations ($2.3B)
all banks and credit unions ($20.6B)
all insurance agencies, real estate, law and engineering firms ($23.6B)
all advertising and PR agencies ($1.4B)
all hospitals, doctor offices and dental clinics ($33.8B)
all hotels, restaurants and bars ($20.1B), and
all software publishers, consultants, performance arts, and sports teams $16.2B).
All those economic sectors produced combined sales of about $177 billion in 2017, one billion less than the companies in manufacturing.
No wonder the folks are trying to make it at Industry Space. We should wish them all the best.